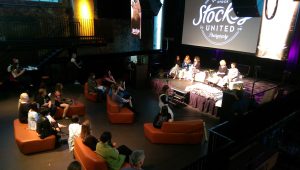 #tdcbne17
2017 was my first year at The Design Conference, the creative brainchild of Matthew Haynes of Analogue Digital.
What a great event. Matt's energy gets scaled up to Powerhouse proportions, mixed in with local & international speakers and blended with a big crowd and plenty of room for activities and the result was a really energizing atmosphere and a great experience.
The presenters spoke about a mix of their work, personal experiences, insights into their mindsets, creative & business processes, successes, failures and predictions.  The breakout talks gave practical advice and some hands on experience like the analogue illustration workshop with Sophia Mary Mac.
Some Takeaways
Wayne Thompson  — fonts are hard.
Dean Pool — practice creativity. Experiment. Have fun. Blend ideas.
Nadia Hernández — back yourself, have a go.
Mike Rigby — have reasons behind your work. Make 3D whales. Blow minds.
Kelly Thompson  — hone your craft, be adaptable.
Lauren Hom —  build off your personal projects. Listen to drunk ideas.
UsTwo Sydney — loved their transparency. Celebrate wins to push through the grind.
Prue Jones — the world is going to start changing faster. Get ready, and start planning that brain chip.
Cyrcle  — wow. Be fearless, go hard, ride the ups & downs, blow minds, make big things. Put a brush on a stick. (Kitters was there).
Seeing and hearing these stories made me want to get to work. An amazing event I'd highly recommend.